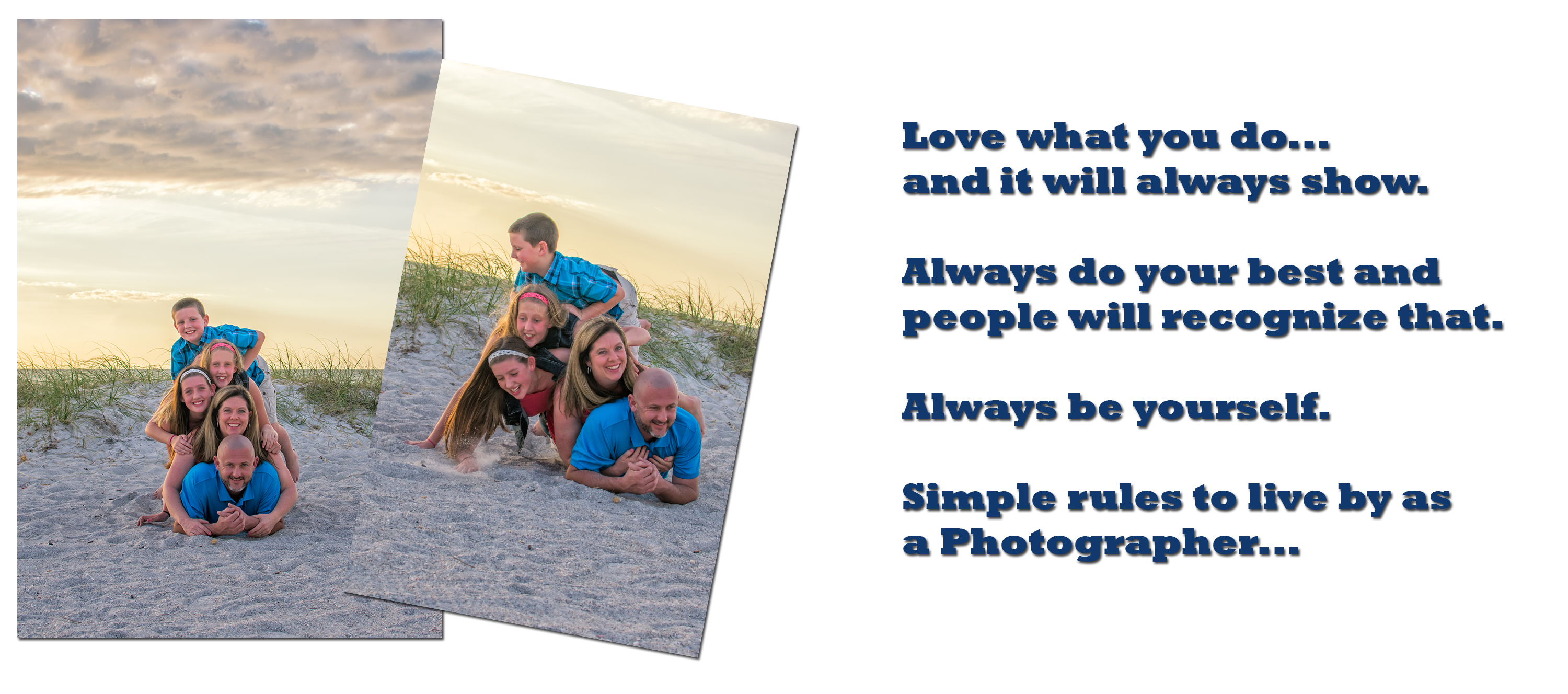 The title of this blog post is "Love what you do and it will always show!"
I've lived by that phrase my entire life and carried that with me through my work as a Clearwater Beach Photographer for over 15 years now. Never once did I ever worry about being the best, being the most expensive, being the coolest. I just always did my best and just always acted like myself. I believe service to others is our greatest calling in life. As a Clearwater Beach Photographer, I'm really blessed to be able to share in the memories of so many families and meet so many wonderful people. It has always brought meaning to my life and my work. How many people are stuck in jobs they hate in this world, muddling through? I'm incredibly lucky to be get the opportunity to make awesome Clearwater Beach Photography year round.
That's what this new re-freshed website has been about from the beginning. It's about re-invention and new beginnings. Unfortunately earlier this year… I got sick. I haven't really talked about this too much. But basically it forced me to simplify my life. I got rid of lots of "Stuff"… Like uhhh… alot of stuff… 3 new cars, 4 motorcycles, a travel trailer… Yeah it was rough… I went back to my roots of working on cars with my dad and got myself an old Toyota off some old lady with only 70k miles, fixed her up… Good as new… You know what? I don't miss anything… Especially payments. 🙂 Quite frankly I've never been happier. Now I have less stuff and more time to spend with my kids!
Then I decided hey! I don't have to make as much money anymore or stress myself out over materialistic things that do nothing to enrich my life… (Except my motorcycles.. I'm gonna really miss those.)
So I decided why not give back!?! Why not reinvent the wheel yet again and do 30-minute family portraits at Clearwater Beach for $100 bucks! Yeah! Why not? Right?
… and if you need a full hour. No worries. I still got your back for only $50.00 more!
After alot of soul searching. I was bound and determined to keep working. I like working for myself and I absolutely love creating family portraits at Clearwater Beach for people. I love working with the children. Love visiting with the same families year after year. Love making new friends. I'd rather wear myself out doing something I love than just sit around and rot. So… I came up with a way to make it happen. Scoped out some new spots. While making it cheaper on all of you! It's a win win! Yay!
Unfortunately. I won't be doing weddings or anything else anymore. But I will get to do what I love the most and that's create Family Portraits at the Beach! Pretty good deal. I will admit, I thought about getting a cushy office job for about 2-seconds… Then I said "No way!"… I decided to continue to believe in the power of doing what you love. It's worked out all my life so far!
This year has been a life changing wake up call for me. No longer do I care about things like an over-inflated sense of ambition or materialistic stuff… I'm happy to just be here. Excited to let life just flow. Happy to be able to hang out with my kids every day. Happy to do what I love and that is being a Clearwater Beach Photographer! I plan on being around for the next 10 or 20 years doing what I love.
I have to thank my wife for stepping up and going back to work full time and being there for me. Apparently she was bored not working anyways? … and although she loved me, she hated working with me… hmmm… Apparently, I'm one of those Tyrant Perfectionist Bosses… :-/ Who knew!
I thank all of you for allowing me to continue to do what I love so much!
Thanks a million!
I'll see you at the beach soon!