It brings me great joy in life to be your Clearwater Beach Photographer.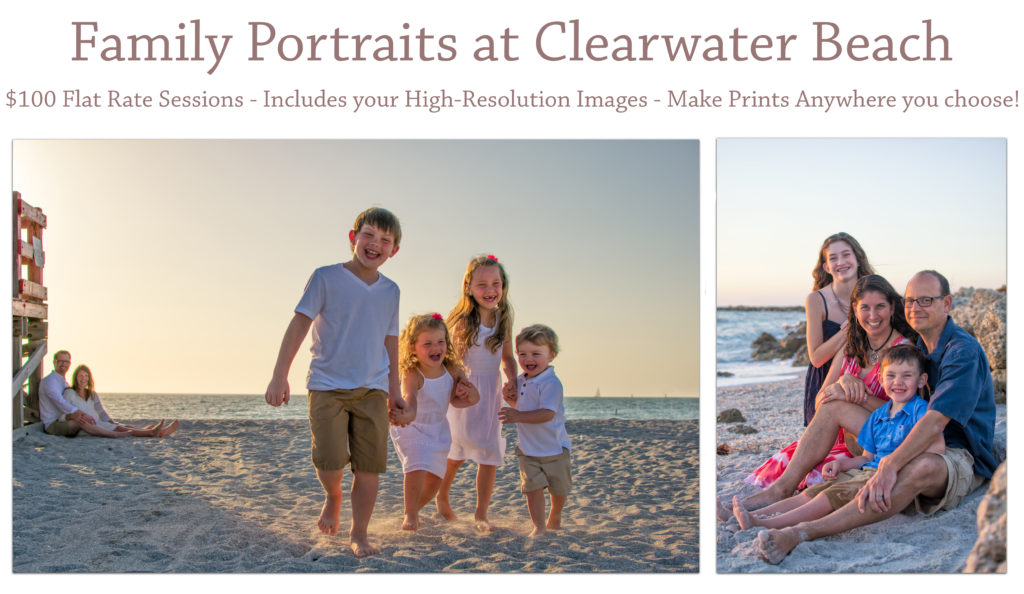 I've been a Clearwater Beach Photographer serving families like yours for over 16 years. Featured here is just a quick sample I pulled from just one recent month of my work. I have a library of my past work containing over 270,000 images. I was the original founder and creator of the biggest Vacation Family Portrait Company on Clearwater Beach. I started doing this at 20 years old, 16 years ago. I've been literally creating Family Portraits my entire adult life.  At one point in time my health took bad turn and I ended up selling my previous website and domain to another photographer. Then I bounced back! I moved on to trying a new approach, re-inventing myself and my work. Which by the way, is super healthy to do from time to time. Everyone should try it. 🙂 It sparks the creative process.
As a Clearwater Beach Photographer who loves what he does and loves the families he serves. I became disillusioned by an influx of non-local companies, who have been trying to capitalize on out of town visitors on vacation to Clearwater Beach and thus farm out their work to less experienced photographers they found on craigslist or other places. What you see on those websites is in many cases not what you get.
So I decided to do something about it… I wanted to set a new standard.
Creating Clearwater Beach Photography that was better, more affordable, consistent, and beautiful. When you book your Clearwater Beach Photography with me, you get me…..  Not… Well who knows? Shopping local is always a better experience and it couldn't be more true when choosing a Clearwater Beach Photographer you can trust.
I created my first vacation family portrait business by creating Clearwater Beach Photography that set the standard and the pace for every other photographer on Clearwater Beach. Now, I am setting the the standard and raising the bar again. Offering some of the most beautiful family portraits you will find at the beach, to those looking for simpler and fun sessions at a no brainer price.
So my personal website here is all about making things better for you! Making beautiful family portraits at the beach for you! Making amazing Clearwater Beach Photography more affordable for you! 30-minute portrait sessions which are priced at only $100 and include all the beautiful editing you have come to expect from me. Oh and I still include the high-resolution image files. On top of all that? You actually get the photographer who's work is represented on the website! It's a win win, for everyone.
I've perfected the art. Perfected my methodology of creating tried and true portraits. I'm proud to be the only Clearwater Beach Photographer able and capable to offer true quality portrait sessions at the beach at only $100!
I'm not here to get rich. I'm here to be of service to others, because that is our greatest calling in life. I've made lots of money in the past off of my photography. Who cares… Never could quite figure out what to do with it anyways. Money doesn't buy happiness. I drive old Toyota's and Old Motorcycles for goodness sake. That's my hobby. My personal family vacations revolve around camping in the mountains or hanging out at the beach here at home. Nothing fancy…
But what I do love the most? Working with families. Working with children. Creating memories for people. That's what adds value to my life. I love what I do. I've been blessed to create Clearwater Beach Photography for hundreds of families over the years. Shared good times and had some great laughs. I've made lots of friends along the way. That's what it's all about!
When I get old and die someday… (and I hope that is reallllly far off as I'm only 36…) I want to be known as a Clearwater Beach Photographer who loved his work, and loved the families he created Clearwater Beach Photography for. I live to bring joy to others as a Clearwater Beach Photographer.
I can't wait to be your Clearwater Beach Photographer.
There is over 200 Clearwater Beach Portraits on this page alone. I hope you enjoy viewing them, as much as I enjoyed creating them…
I'll see you at the beach!
– John Paul Kindig