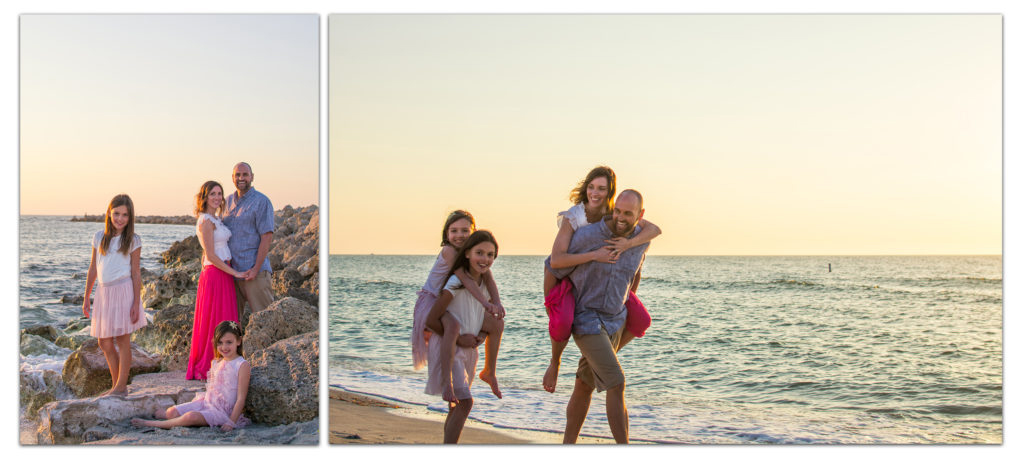 How to Book your Clearwater Beach Photography
To book a Clearwater Beach Family Portrait Session please call me at 727-831-2186 to ensure availability of your date and time.
All sessions are reserved based on the honor system. If you say you're going to be there, then so will I. So basically, I don't require a deposit to reserve your Clearwater Beach Photography. However, I will touch base by phone with you earlier on the day of your session to confirm your appointment. If I'm unable to reach you, I won't make the drive out there. So please be sure if you miss my call, just to touch base with me and say "Hi". I try to keep everything simply fuss free and fun!
This page outlines everything. What you can expect from your Clearwater Beach Photography session. What you can expect from me. It has info on where to meet so you can always reference it.
If you wish to use a credit card on the day of your session, I process through Square on-location. I also appreciate payment by Check or Money Order as this helps keep my prices lower, due to excessive merchant and rewards card fee's.
Creating Family Portraits at Clearwater Beach is a very personalized experience. I always prefer to talk to you on the phone before we set up any session. This is not a sales pitch call, but more like a getting to know you call.
I love what I do, and care about the people I work for. I want to make your experience great. Typically we talk about your family, how many kids you have, the ages, go over the details of what I offer, and talk about what to wear. These calls take five minutes of your time. It's worth it.
We meet for our 30-Minute Clearwater Beach Photography Sessions at Morgan Park which is located at 2650 Gulf Blvd. Belleair Beach, FL 33786 – This is just about less than a mile away from main Clearwater Beach. It's a nice quiet spot away from the hustle and bustle of Clearwater Beach.
If you choose to Extend your Clearwater Beach Photography to a Full Hour. Then we meet at Sand Key Park which is located at 1060 Gulf Blvd Clearwater, FL
Before Booking Your Session – Info on what you can expect from me…
I edit the pictures and make them look pretty. I shoot in spots purposefully which minimize the chances of random people being in the background.  However if some random guy in a speedo wanders into your beautiful image, no worries, I remove them!  All my images are edited and made to look beautiful.
All Images are 100% Copyright Free – The images I create for you are Digitally Delivered to you in your own gallery within 7-10 days or less after your session. You will get an email inviting you into your gallery, where you can view and download them. You are free to make prints anywhere you choose.
See the bottom of this page for our preferred lab. They give you a discount on all orders and are literally the best around. Their prices can't be beat for what you get!
I never delete your online gallery and it never expires. I have unlimited image storage.So I still have all the pictures I've ever taken, even from 8 years ago. However, please do make sure you back up your images somewhere else. Even though I have unlimited storage. I cannot make promises that I'm going to have them 10 years from now or when I'm 90. So please back them up once you download them.
HTML Forms powered by
Wufoo
.
Tips for Preparing for your session!
For selecting outfits – I always recommend choosing lighter colors. Nothing to dark or contrasty. Don't wear black clothing on the beach. White and khaki, coral, or lighter pastel colors work best. Navy is dark but the exception to the rule and always looks classy. Just keep it simple and you'll be in good shape.
Ladies bring hair ties just in case it is a bit breezy! I know it's not your first choice. But keep in mind the beach is not a studio and it is always a bit breezy if not windy.
Don't get sun burned before your Clearwater Beach Photography. SPF 100 was invented for a reason. Also don't get eaten by any Sharks before your session. Just kidding there's no Sharks around Clearwater Beach… Well… Not big ones anyways.
Go Barefoot – Leave the Tennis Shoes at home… Sorry have to mention this. It happens.
Don't take yourself too seriously and have fun! We're going to have fun. You're on vacation relax! 🙂
Basically keep it simple and enjoy yourselves. I create Beach Photography that makes you happy.
If you have any questions feel free to contact me at anytime by email or call me at 727-831-2186.I always pick up the phone unless I am shooting.
Thanks so much! I'll see you at the beach.
Our Preferred Lab – Great People – Great Lab – Click the Picture Below to Open a Separate Link