It brings me great joy in life to be your Clearwater Beach Photographer.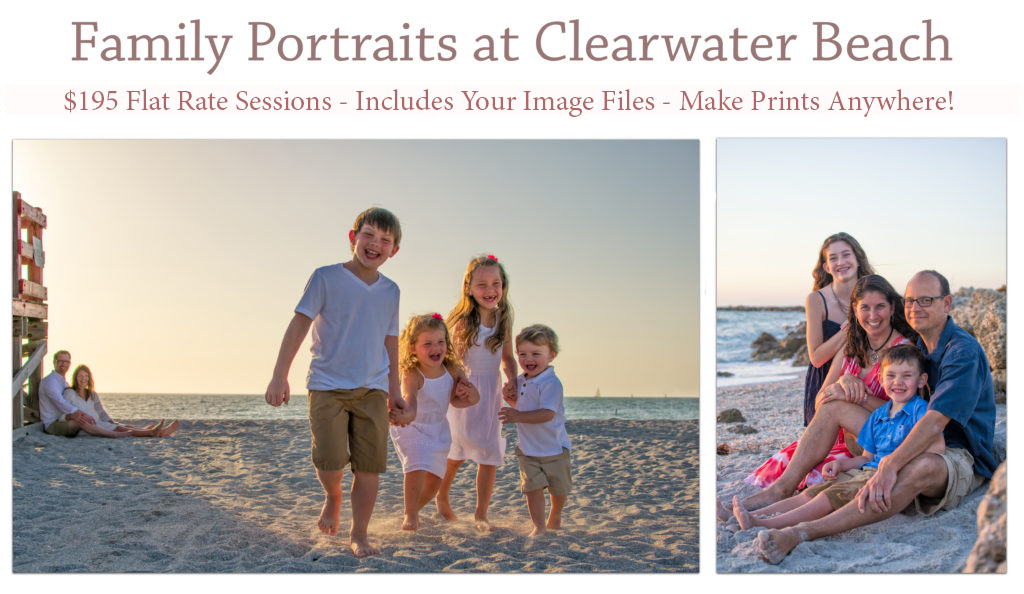 I've been a Clearwater Beach Photographer serving families like yours for over 16 years. Featured here is just a quick sample I pulled from just one recent month of my work. I have a library of my past work containing over 270,000 images. I was the original founder and creator of the biggest Vacation Family Portrait Company on Clearwater Beach. I started doing this at 20 years old, 16 years ago. I've been literally creating Family Portraits my entire adult life.
As a Clearwater Beach Photographer who loves what he does and loves the families he serves. I wanted to set a new standard. Creating Clearwater Beach Photography that was better, more affordable, consistent, and beautiful. When you book your Clearwater Beach Photography with me, you get me. The actual person who's work is represented on the website. Shopping local is always a better experience and it couldn't be more true when choosing a Clearwater Beach Photographer you can trust.
This Clearwater Beach Photography website is all about making things better for you! Making beautiful family portraits at the beach for you! Making amazing Clearwater Beach Photography more affordable for you! Family portraits at Clearwater Beach are priced at only $195 and include all the beautiful editing you have come to expect from me. Oh and I still include the high-resolution image files. On top of all that? You actually get the photographer who's work is represented on the website! It's a win win, for everyone.
I've perfected the art. Perfected my methodology of creating tried and true portraits. I'm proud to be the only Clearwater Beach Photographer able and capable to offer true quality portrait sessions at the most affordable prices. No gimmicks, no tricks, and no up-sells.
But what I do love the most about being a Clearwater Beach Photographer? Working with families. Working with children. Creating memories for people. That's what adds value to my life. I love what I do. I've been blessed to create Clearwater Beach Photography for hundreds of families over the years. Shared good times and had some great laughs. I've made lots of friends along the way. That's what it's all about!
When I get old and die someday… (and I hope that is reallllly far off as I'm only 36…) I want to be known as a Clearwater Beach Photographer who loved his work, and loved the families he created Clearwater Beach Photography for. I live to bring joy to others as a Clearwater Beach Photographer.
I can't wait to be your Clearwater Beach Photographer.
There is over 200 Clearwater Beach Portraits on this page alone. I hope you enjoy viewing them, as much as I enjoyed creating them…
I'll see you at the beach!
– John Paul Kindig